Kochen mit Herrn Nelson 7: die Tagessuppe
Watch the video
Mmm. Die beste Tagessuppe in der Welt! Hast du Hunger?
Firstly, many thanks to all the viewers, subscribers, and people who made MyGermanClass.com a finalist in the 2007 Edublog Awards for Best Educational Use of Video/Visual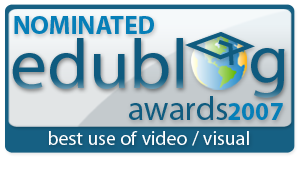 !
Your votes are much appreciated!!
Another announcement:
MGC University! You can now sign up for mini-courses which contain English/German scripts for videos, short quizzes, and discussions with other participants. Right now there is only a course for Übel Knübel, but more are coming up!
1 Comment so far
Leave a comment
Leave a comment
Line and paragraph breaks automatic, e-mail address never displayed, HTML allowed:
<a href="" title=""> <abbr title=""> <acronym title=""> <b> <blockquote cite=""> <cite> <code> <del datetime=""> <em> <i> <q cite=""> <s> <strike> <strong>